Multi Butterfly Mix in Glass Dome
Multi Butterfly Mix in Glass Dome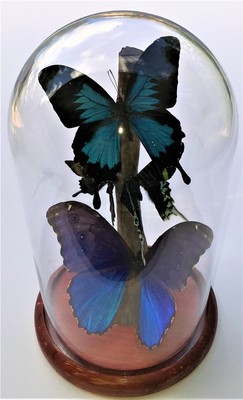 Multi Butterfly Mix in Glass Dome
PRODUCT INFORMATION
Multi Butterfly Mix
10" x 5 " Glass Dome with wooden base.
If you order this you will definitely get Papilio ulysses ulysses from Indonesia and Morpho didus form Peru. The other two butterflies will be smaller and compaptible in colour with the striking blues of the two larger ones.
In this arrangement the other two are Urania leilus moth and Papilio maakii

Product Support & Advice
We're here to help

Quality Products
Products with up to a Lifetime Guarantee

Fantastic Prices
We're proud of our competitive prices

Australian Based Company
All stock held and dispatched from Australia
DELIVERY INFORMATION

Shipping times:
Australian Customers:
Sendle.com (courier broker) with a tracking number.
Within Australia = 1-4 days
Australia Post
Within Australia = 1-4 days
Express Post = 1-2 days
International Customers:
Air Freight = 7-10 business days
International Express Post (EMS) = 4-5 business days
Packaging:
Each unit (except for the key rings and other small items) is individually bubble wraped and placed in a bigger box with soft foam filling. The default method for sending goods is courier if within Australia, if internationally - via AIR MAIL, unless otherwise requested. If goods are required more speedily, then a faster courier service would be employed, and an extra surcharge fee would apply.
We try to satisfy your curiosity for the unusual and sometimes quirky.

I graduated from college with a Master of Science degree from the University of Queensland and always wanted to work in nature or with nature. I've managed plant nurseries and had my own fish farm in the past.
I am a naturalist entrepreneur at heart and wish to promote the beauty of nature that can be packaged up as an art piece and delivered to other people's home in an environmentally sustainable way, thus one doesn't need to go to the Amazon to enjoy one of the animals that inhabit it for instance. Hope you enjoy the art pieces you buy from my EB ay shop.
Please place your order by filling in the customer details before submitting the order. Payment can be made either by Direct Deposit or by PayPal. The order will be dispatched once payment has been received.
The preferred payment is PayPal .
Australian Customers:
Paypal
Payments can be made by Direct Deposit into our bank account which you can request once the sale commitment has taken place.
International Customers:
Payments accepted by PayPal only.
100% Money Back Guarantee: if damaged in freight transit. Either a full refund can be organised or a replacement sent.
How to Return an Item
Your item must be in its original unused condition to be returned, unless there is a manufacturer defect. You must return the item within 30 days of your purchase.
Return Exceptions:
All items can be returned if the original packaging is opened.
Privacy
At Newman Art Designs, we recognize and respect the importance of maintaining the privacy of our customers. We do not sell, trade, disclose or give-away any information we may have on any of customers or members. Our servers employ industry standard security procedures to protect all our information from unauthorised access.
Unsubscribing from our Mailing List/Newsletter
If you have subscribed to our mailing list and would like to be removed simply click on the unsubscribe link at the bottom of the next newsletter you receive from us.
ELMS - Powered by: